Blog
When the official news came through at 6.30pm I was still in the office and worked for another hour. My colleague wondered if I would go to the palace and I said no, but the photographer rather than the royalist in me said, it's not far to walk, let's go and see. The weather was bad, the heaviest rain for months breaking the drought. The rain and sea of black umbrellas added something to the scenes. The royals were all at Balmoral so there was no-one to greet the crowds, but people had to be there, for the historic occasion. Advertising screens on bus shelters and street totems carried pictures of the Queen, the information screens in railway stations also with condolences from railway companies.
I'm genuinely sad at her passing. An age has ended, though it's hard to see it as any kind of cohesive period like the Victorian era. I had hoped she would last another couple of years and surpass Louis XIV as the longest reigning monarch of a sovereign state. It will be strange to have a king - we will probably now have kings until the 22nd century at least. The national anthem will be 'God save the King' again (if only we could have a different song!). There will be new money - doubtless they have had designs in readiness for years. And a coronation. Haven't had one for 70 years.
---
Bought a Macbook Air M2 on Saturday, to replace the Macbook Pro I've had since August 2016. I reckon on replacing laptops every five years, but the last one made six in fine style. No performance issues, but the battery life is collapsing, the power cord has frayed, and I doubt the next major OS upgrade will work on it. It was actually a 2015 model, preferred because it had all the ports that have been removed from subsequent models. Of course I now had to buy a multi-port dongle for the Air.
Reasons for the Air: It's a more advanced model than the current base Pro. More ports, better screen and camera. It's lighter, now that I'm regularly taking the laptop to work and meetings. It's amazing how heavy my old Pro suddenly feels. My work machine is in the cloud, accessed by a thin client with a big screen in the office, and working just the same way on my laptop. I go into a pod for a Teams meeting, log in on my laptop to share my virtual machine, then back to the open-plan desktop. Or I log in and work live in CAD with a client in their office - the technology now allows that kind of agility across normal wifi, without the painful latency of five years ago.
Not sure what to do with the old laptop. I still have a 2013-ish model which I keep for its DVD drive and scanner connection. I have my 2001 white 9" iBook, for OS9 and because I love it - the size, the thickness, the cable puck. I guess I could keep the 2016 Pro because it has a VGA connector, required in the church. Or I could buy a new VGA connector. Maybe I can trade the old laptop in for the price of a VGA connector...
---
Blog pause caused by two weeks of covid, hopefully now almost ended. I probably caught it on public transport. I thought at first I had picked up a chill and breathed too much wood smoke at the Wolf Fields labyrinth opening on the 18th (see below). But I was quite unwell on the Monday evening. Tuesday morning I tested +ve, for the first time. For me it was like flu mixed with a heavy cold - aching, sweating, sore throat, catarrh, coughing. But it didn't touch my lungs, thank goodness.
The first week was mostly in bed, sleeping and sweating. Bedclothes and pillows were soaked. I was dehydrated all the time. It didn't worry me because that's how the body gets rid of viruses, but it was a horrible mess. Waking in the night on a cold wet pillow.
I still tested +ve on Monday (disappointing but maybe not surprising). Each day I get a little bit better, but it's slow. The heavy cough and snuffling is the main thing. My energy levels sag and I have to lie down for a while. My sense of taste and smell went this week - I can't smell or taste coffee, for instance. Things have a bitter taste, even ice cream. Can still taste salt, and smell lavender - it's not total loss, clearly a particular set of chemicals is affected.
Of course I am quarantined. I used the time at home to get things that require delivery. A new set of higher performance masks - 'closing the door after the horse has bolted' maybe, but good to protect others from me, and for the future. In theory I have five months' immunity now.
And new headphones. I have a pair of AKG cans for music, about 15 years old and fraying. I have a Logitech headset for Zoom/Teams calls - USB so no good for a phone, and not good for music. I'm tired of the cables. So it was time to have one wireless, device-agnostic set to replace both for work and home. After much reading of reviews and tests I landed on the Bose QC35II - a compromise between music quality, call quality and price. Working well with my devices so far, and comfy. I'm finding extra parts of the music, good and bad.
---
The great thing about making your own blog is that you can add entries into the timeline where they are meant to be, even if you didn't get around to it at the time. So I can put this entry in on 19th June, despite writing it on 30th.
The Wolf Fields labyrinth was opened today, as part of the Wolf Fields Art Day. The weather was 25˚ and sunny until half an hour before the opening, when it rained and turned cold. The area dean was meant to cut the ribbon, but he had a puncture and didn't arrive until later, so we went ahead anyway. I did a little labyrinth explanation, there were prayers, old and young people cut the ribbon, and the children walked in a crocodile round the labyrinth to the centre, where there were bubbles to blow.
More photos here on Flickr.
The children's procession was entirely delightful - not how we usually walk a labyrinth, but it accidentally recreated the 'labyrinth dance' theory for the origins of labyrinths. I made a note to do this again. It will definitely work better on the rounded patterns like this one.
The barbecue to end the afternoon was brought forward by an hour because of the weather, but there were still plenty of people. We hung around the fire pit for warmth, my coat and bag smelt of smoke days later. I assumed the first signs of covid (see above) were down to the wood smoke.
---
On the actual release date, here are a couple of clips of Bowie on the Ziggy Stardust tour of 1972 - put together from various sources and synced to a live track - superlative sound and vision editing by Mr Sussex.
[Can't get the Youtube player to embed here, no time to fix. They seem to be reluctant to allow it nowadays.]
---
It was only after posting the last entry that I saw the note on Wikipedia - the release date was confirmed as 16th June 1972 by this post on davidbowie.com in 2015. Most sources still say 6th June - they missed the correction or haven't been updated. I wonder what the origin of the 6th June date was - 6th vs 16th looks like a typo.
Not that ten days makes any difference to all the other aspects.
---
Meanwhile there is another jubilee - the 'Ziggy Stardust' album was released 50 years ago today. This makes me feel very old. I still have my copy, the first record I ever bought with my own money, in 1973.
I called in on Heddon Street, where the cover photos were shot, on Saturday for the first time in many years. The street is now pedestrianised and filled with bars. A plaque marks the spot where Bowie stood for the front cover. There is a phone box, but it is not the same model. It could do with cleaning up.
'Ziggy Stardust' the album was not instantly a cultural revolution like 'Sergeant Pepper' or 'Never Mind The Bollocks'. Touring and 'Top of the Pops' did the work. In February 1972, Bowie was a critical success due to 'Hunky Dory' but not a commercial one, and he really needed to sell the records this time. So he toured Britain relentlessly, starting in pubs and clubs and working his way up. By August, he had a fanbase, a hit album and single, and stardom, here at least.
Fittingly, the anniversary falls early in Pride month. Bowie gave his famous 'coming out' interview just ahead of the Ziggy tour, obviously to court publicity (slightly desperately), but also because he felt that the 'next hero' for the 70s should be gay. Not really gay himself, it became a central part of the Ziggy Stardust persona which for a while was not separate from David Bowie in the public mind. (And note that 'David Bowie' was itself a stage name - a character, playing a character.)
An interview in the music press was one thing, the appearance was another. Media representations of gay men in early 70s Britain were middle-aged camp comedians - Kenneth Williams, Larry Grayson, Dick Emery, Mr Humphries in 'Are You Being Served' - limp wrists and coded references, acceptable because ridiculous. And then there was a charismatic young rock star on TV, wearing makeup and the best haircut of the time, bold and confident, referencing art and literature. This was the cultural revolution, more than the music which enabled it as a carrier wave.
---
This is the last royal jubilee for quite a while. The first one celebrated in a reign is a silver jubilee, 25 years. Charles is 73 and not yet king, and will almost certainly not reign for as long as 25 years. Then William will have to do 25 years to reach his Silver Jubilee. If William becomes king in, say, 15 years time, that means 40 years to the next jubilee. It may be 50.
We have got used to having a jubilee a decade in the 21st century - Golden in 2002, Diamond in 2012, Platinum in 2022. This has never happened before in Britain. Queen Victoria was the only other British monarch to make a Diamond Jubilee (1897). Four others have reigned for more than 50 years, in the last 1500 years. An average century might contain at best three jubilees - two silver, maybe also a third silver or (very rarely) golden. The silver jubilees of George V (1935) and Elizabeth II (1977) were greatly celebrated because they were unusual events (the only two of the 20th century).
So those of us who have seen the four jubilees of the Queen's reign should perhaps not be so blasé about them, in spite of the debunking attitude set by punk during the first one. A diamond jubilee will not happen again for centuries, a platinum probably never.
Now if only one could get decent souvenirs... Merchandise for royal events tends to traditionalism and/or kitsch - pomp and populist. Somehow the monarchy can't be represented by modernity and good design - it can't get out from under the weight of heritage and hand-craft. They did these things better in the 15th century, when the symbolism and heraldry were modern and really meant something. Now it's reduced to twiddles on a teacup. The best 'jubilee merchandise' ever was, ironically, the Jamie Reid 'God Save the Queen' work of 1977 - a critique, but utterly indelible and original. Since then, nothing worth remembering. The best-designed souvenir of the Platinum Jubilee is the Elizabeth Line.
---
So the one thing that is not compatible at all with my blood pressure medication is grapefruit (fruit or juice). It increases the effect of the medication, unpredictably. This is a great pity because grapefruit is my favourite citrus fruit, and I have a couple in the fruitbowl that I now cannot eat. I didn't want to put off the start of the medication because it will mess up the timing of the two-month review, and I don't know how long it will take to be safe after eating two grapefruit.
---
It's now confirmed that I have high blood pressure, very likely caused by several years of severe stress and overwork in my previous job. In 2019 I had what turned out to be a false alarm, but the doctor sternly told me "I don't want to put you on pills for the rest of your life - you have to start saying no at work". So I took this news back to them, but saying no didn't seem to change anything, so I left and took a while off to recover.
A few weeks into my current job, I went for a new pair of glasses (since I could now afford them - my glasses are always really expensive). The optician showed me images of the backs of my eyes. He explained that the blood vessels had been distorted by high blood pressure, and that I should get a machine to check it at home. So I did, and was sufficiently alarmed by the readings to seek medical attention.
They made me wear a blood pressure monitor for 24 hours, which takes a reading every half hour during the day and hourly at night. This was uncomfortable but mildly amusing since I was out partying at Clerkenwell Design Week that day - I wondered what the effect on the results would be. It confirmed that I have high blood pressure, though not as high as my own readings - but still high enough to require medication, for the next two months and then possibly indefinitely. It is of course now a matter of note for my new employers that sustained stress and overwork must be avoided.
---
smallfire.org will now be archived by the British Library:
The British Library would like to archive your website in the UK Web Archive and to make it publicly available. The UK Web Archive was established in 2004 to capture and archive websites from the UK domain and across the web, responding to the challenge of a digital black hole in the nations memory. It contains specially selected websites that represent different aspects of UK heritage on the web, as well as important global events.
Including alt worship, obviously. The Grace website has already had the same treatment, because one of us was an archivist at the London School of Economics and knows about these things!
So now my work is done and I will be famous in 500 years time as the only reliable source for the doings of legendary figures such as Jonny Baker, Kester Brewin and (Pope) Ian Mobsby ;-D
I just moved the hosting of smallfire.org to Krystal, following up on my 'green web' research. Hopefully no-one should notice except that it has an SSL certificate now. Email addresses not yet set up.
---
On getting up late this morning, I found that the hallway ceiling was dripping on the carpet. In 2019 the bathroom ceiling was cracked right through, because the water main in the flat above had sprung a spectacular leak, and the tenant had just got back from somewhere and was herself dealing with a flooded kitchen. Of course these things always happen on Sundays, when landlords are on holiday, plumbers expensive, etc.
So I went to the flat above, they (different tenants now) opened their hall cupboard in puzzlement, and were confronted with a torrential shower. So I went to knock on the door of the topmost flat. This is inhabited by an elderly person with dementia. The last time I saw them, a month or so ago, the fire brigade was breaking into their flat to enable paramedics to take them to hospital, at the height of a violent storm when it was dangerous to be outside.
There was no reply nor sign of life, so I called the emergency services in case the man was injured in the shower or some such thing. The chief fireman was rather grumpy at being called to a plumbing leak, but I explained that due to the previous incident and the health problems of the person we had to make sure they were OK. We had no phone numbers for him or carers to alert.
Eventually they broke into the flat, and the guy was sitting there fine and taking no notice of anything - the knocking, the yelling, the half hour breaking the locks. A boiler pipe was leaking - 'slightly' said the fireman - so the firemen turned off the water - this immediately stemmed the flood below. The firemen and police departed, telling us about the use of emergency plumbers (but how could we not have investigated the situation in the top flat?). And we exchanged names and numbers, including the one of the man in the top flat.
In a block of flats in London you never meet your neighbours except in a crisis when everyone comes out of their doors at once and explains who they are and where they live. The block I live in has flats and maisonettes that piece together like a wooden puzzle - it's very difficult to figure out which door belongs to which set of windows, or which flat is on top of which. My bedroom and living room are under different flats, my bedroom is under and next to two other living rooms which can be a problem when they party. I would love to have a set of plans so I can work out where noise and leaks are coming from, and which door to hammer on.
---
It's 25 years since I first went to Grace. Last night was the 25th-anniversary service, so to speak, the actual date of my first attendance was 13th April 1997 and Grace was on a Sunday night then. Nobody imagined that Grace would last for another ten years, let alone 25.
In 1996 I was going to St James the Less and Abundant the nightclub, so I had seen certain Grace people around and had heard it mentioned. And then I saw the Grace episode of 'God in the House' on TV at Christmas 1996, and saw friends there, so I picked up a flyer at the next Abundant. It took me a few months to get around to going, so my first Grace was the last on the flyer. It was, you might say, what I had been looking for.
The general vibe was like this - the darkness, the projections on muslin sheets, the rows of candles leading to the front, the ambient music. I hadn't started to take photos yet. The music as I entered was the 'Holy Space' track from the first Grace album, not yet released. It was magical.
I wrote a slightly breathless article for my Methodist church magazine back home in Surrey:
I walk down the long nave of the dusk-dark building between images of Celtic crosses projected onto hanging screens. In front of me, a single huge screen fills the chancel arch to the floor. On it are projected icons, illuminated manuscripts, pictures of the natural world overlaid with the words of songs I don't yet know. In the pulpit a television screen is filled with psychedelic computer graphics in pulsating motion. In the air, a soothing throb of electronic music. Welcome to church.
The congregation of many ages come forward to sit on the cushions scattered across the sanctuary floor, in the soft pool of light in front of the big screen. The service begins as one of the leaders lights with prayer the three candles which represent the Trinity. Later we will all light our candles from these three, and leave them there on the table as a fiery offering around the small stone cross.
The liturgy tonight is from the Order of St. Hilda and St. Aidan. Someone speaks about the history of the Celtic Church, about its simplicity, its love for the Bible, concern for the poor and its deep sense of God present in all nature. As he speaks the images change to illustrate his words, and when we pray the TV monitors will show children, the street, the Earth, the desert, refugees, broken bread and wine. There is both silence and Grace's own specially-composed music, relaxed, funky, warm and reflective.
One forgets how radical all this was, compared to daylit technology-free sermon-centred worship with sedate choir-led hymns and a song on guitar 'for the young people'! There was minor interest but nobody was willing to come along to see, even though they were talking about finding new forms of worship. It kind of confirmed my growing decision to leave.
Below, the front and back of the Spring 97 flyer. The internet was young and the Grace website didn't arrive until the summer of 97 so a print flyer was the only way to find out about things. And search engines were in their infancy, so a print flyer was the only way to find a website!
---
Started a new job today. It's 1 year tomorrow that I resigned from the last one. Two months notice, six months not looking for work, four months job hunting. One of the reasons for lack of much blogging after Christmas, job hunting is a lot of work, searching for suitable vacancies, researching what you've found, redoing your CV and portfolio. The new job is only 5 minutes walk from my old one, so my former social life can continue almost as if I were just working on another floor in the building.
---
Today we finished staking out the lines of the Wolf Fields labyrinth, having done about 2/3rds of it on Saturday 12th March. Next it will be filled with wood chips to make the path surfaces (and cover the ground membrane).
We will also even up the stake heights, but it might be easier when the woodchips are down. The ground is not flat either.
Sore hands and arms, blisters, aching back and legs.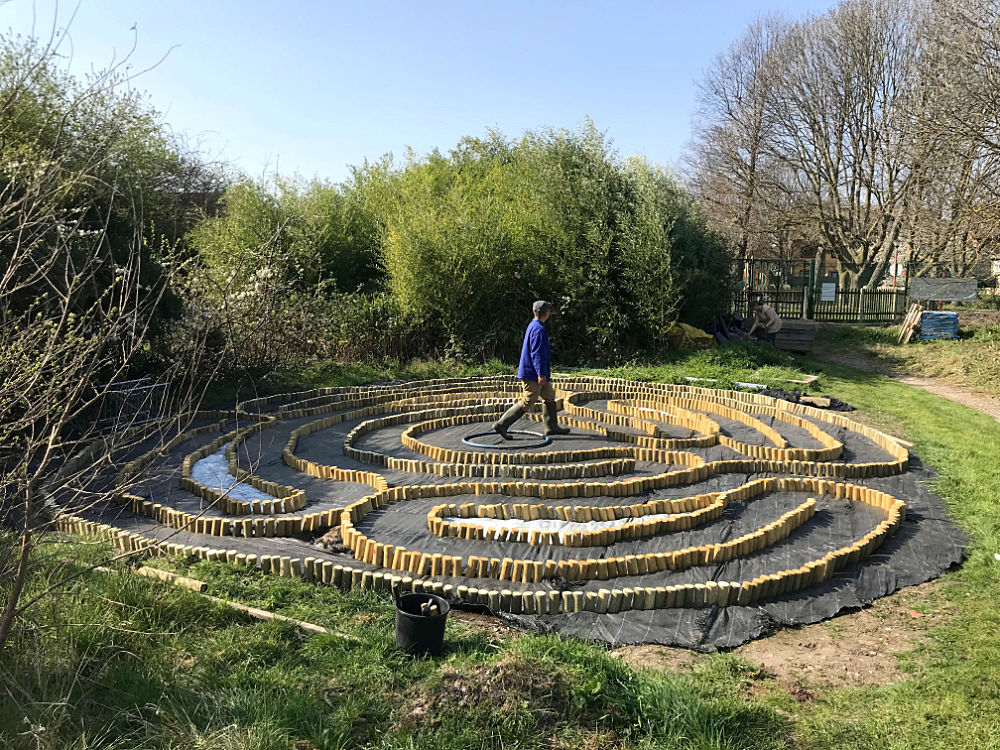 More photos here on Flickr.
---
Went down to Greenwich again on the river boat to look at the Painted Hall. This time I bought the 'Explanation' written by the artist himself, Sir James Thornhill, to understand the more arcane elements of the ceiling.
Even Thornhill doesn't explain everything. Apollo has 'the Hours, etc, flying round him' - who is 'etc'? 'Calumny, Detraction and Envy, with other Vices' - which other vices, exactly? 'Stone Figures, and... all Sort of marine Trophies in Stone Colour'. So some of it means a lot, and some is just stuff.
Coming out of the Hall I had a realisation. The skyscrapers of Canary Wharf that now fill the view are not a rude intrusion, but the fulfilment of the message of the Painted Hall. The Hall celebrates British naval power, global trade, and (indirectly) mercantile oligarchy - not yet Empire, though the conditions were being laid. London began its journey to becoming a global financial capital around 1700, when the Hall was being built - Canary Wharf is the latest manifestation of that lineage. These things have longer roots than we imagine.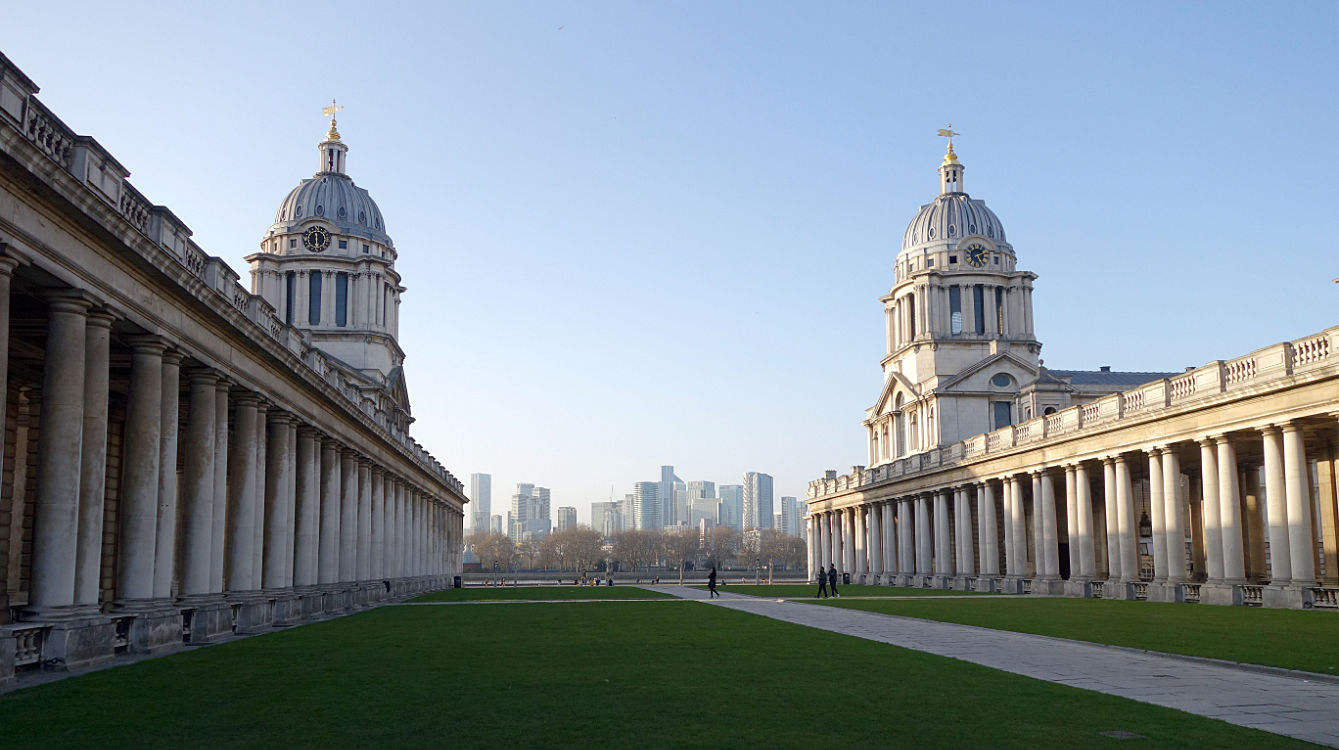 ---
1. You have to make room for the high value adhoc/new activities. You can't just ADD this on top of everything else. Otherwise you'll have no energy stores available to practice and work through the discomfort. REMOVE OTHER THINGS. MAKE ROOM.
2. Figure out ways to periodically review the (supposedly) high value things that are on autopilot. Are they still high value?
3. How much time/energy are you spending on familiar, low-value things? Why?
4. Maybe the hardest question... are you perhaps stuck in a cycle of fighting fires, becoming desensitized, and finding more fires to fight? And is that keeping you from building new habits?
John Cutler, Making room for new things, via Daniel. Daniel focussed on the diagram but these final points just spoke to my former work situation.
---
For most of us, what we do is not new. Architecture is not new and the process of getting things built is not new. As crazy as it sounds, if we are to find better technological solutions to our business processes, it pays to ask how we might do this without any technology at all. It pays to understand the process, not as an input/output issue, but as a functional and useful step in achieving our goals. In architecture, the technology of drawing has become incredibly advanced with increasingly sophisticated and specialist software. But the task at hand has not changed, the challenge is a simple one of clear communication. Better drawings rarely mean more complicated ones, it pays to keep things simple; look back, then look forwards.
Rod Moreno Masey, The Technology Bandaid
---
In office fitout we used to talk about 'front of house' and 'back of house'. 'Front of house' was for clients and important visitors. Elegant furniture, deep carpets, good coffee and biscuits, acoustic and visual privacy. Nice toilets. 'Back of house' was for employees. Rows and rows of desks, tired carpet, iffy coffee and chipped mugs, flat lighting, plastic bins, piles of stuff everywhere. If the lift doors opened at the wrong floor on the way up to the client suite you got a shock.
Post-pandemic this disparity of experience won't do. The office has to be a desirable destination for all. It has to be collaborative, social and welcoming. It has to be adaptable and varied. It has to provide quality for everyone. We have already seen how popular business lounges are, not just for visitors but for employees who will work and meet there if they can. That is now the model for the whole office. Not back of house or front of house, just open house.
---
Some drawings about desks that have been brewing for a little while.
The desk, in the 20th century sense, is an industrial age compromise created by clerical paperwork and bulky fixed technology such as typewriters. It enabled the routine processing of paper-based information, from in-tray via typewriter and rubber stamp to out-tray, with associated banks of filing cabinets. The arrival of computers made little difference as long as the technology remained heavy and the information was printed. The desk enabled Taylorist management and workflow methods by fixing everyone's location in the machinery.
But now, at last, the tide of paper is retreating. And if you don't need a desk to put your paperwork on, or to carry your devices, and you're seldom there anyway, why have a desk?
The desk is still a default spaceholder when planning an office. The assumption is that people need a desk some of the time, so by giving everyone a desk we have at least ensured that they can all work. But if the desk and its associated floor area is simply a space allocation for a person, why does it have to contain a desk? It may not be the best or most needed furniture for the way a particular person works now. Which loops back to an idea I had a long time ago (though drawn in 2014). (And it's Covid-safe!)
For the last decade and more, we have been implementing desk-sharing ratios (note that this still assumes a desk for most work) so that we can add other kinds of workspace. But the emphasis is still on desk provision - get those in first, and the rest happens in whatever space is left over. Has the time come to reverse this? Put in all the agile, collaborative and focus work settings, and put some desks in the residual spaces. For occasional or specialist use only.
In the paperless portable-tech office, the key surface is not horizontal (to put paper and technology on) but vertical, to display information (on screen or whiteboard). We might invent a new 'desk', like the old one flipped up, to put into our personal space allocation. The emphasis on display and connection make it more collaborative, to suit more social work styles. If we need privacy, we go to a pod. Or go home.
---
Everyone got new masks from Santa today. How 2021. Soon they will be a standard gift category, like socks and ties.
Of course, ties are well on their way out - no longer a useful gift. My father must have had 25 at any time. I have 5, none of which have been worn for years except for the black one to funerals. So the category of 'things to be worn under your chin' is being refilled by a different piece of fabric.
---
Back in 2010 Jonny Baker interviewed me for a chapter of his book 'Curating Worship' (SPCK 2010). I've added my transcript to this site, because it's perhaps the most complete statement I've ever made about alt worship, art and design, and it felt like a kind of missing link among all the other stuff I've written here. It's also something that I point coworkers and potential employers at to explain where I'm coming from in relation to this church stuff.
Yes it's a long read, it was a chapter of a book. It's a good book - buy it and read all the other people's perspectives and insights too!
---
Some transcriptions of Peter Kapos's parts of this talk
Kapos:
I was doing a phD in philosophy, and I was peripherally interested in industrial design...

I was interested in German Idealism, and there's a flowing together of ideas out of German Idealism into 20th century German Functionalism which I became aware of...

a specifically German project of thinking the whole, and a lot of that Modernist German 20th century design also has a social orientation, so it provides pictures, utopian pictures, of reconciled wholes...

a speculative futural projection of what a world could be like, which is installed in buildings, and in interiors, and in coffee grinders which I think is marvellous
Peter discusses this cover of the Ulm school journal, which looks like a Peter Saville album cover - easy to imagine it appropriated:
Adorno: [speaking of German functionalist architecture]
Architecture worthy of human beings thinks better of men than they actually are. It views them in a way they could be, according to the status of their own productive energies as embodied in technology
Kapos:
This idea of productive energies being a potential which is disclosed by architecture, or product design, or graphic design - an image of the future, essentially, an image of human possibility
Kapos about this double-sided poster of the Braun programme for 1962:
A utopian proposal for a possible form of social life - these are like people - this is how you can have a social form, like a whole where there's a unity of difference within an overarching unity - freedom and law
We're looking back at a moment which is projecting forward - this is a resource for us in thinking about our future...

What we need to avoid in looking back in order to look forward is nostalgia, which is useless - but also to avoid thinking futuristically about the future... to fetishise the idea of the not-now - a glamorous sense of the future which becomes a self-contained aesthetic - the tailfin version of the future
---
while we're on the subject, thoughts after the margaret calvert exhibition with reference to her ubiquitous achievements in signage and typography (a missed blog entry)
success is:
it's everywhere
it does its job
nobody notices it as such
if looked at it is beautiful
it is not fashionable and doesn't date
it has longevity
it does not waste resources
it is not needlessly expensive or over-refined
it answers a need (for something other than status)
---
After 25 years of privatisation and fragmentation, the British railway system is to be brought back under a single state owner again - Great British Railways. The model is not full nationalisation, but based on Transport for London's successful running of the London Overground, where private operators provide services to the specifications of the controlling body.
As part of this:
There will be a national brand and identity to emphasise that the railways are one connected network.
The rail network should feel like a network, a coherent, consistent, clearly-branded operation that gives passengers confidence in using it. Most successful consumer businesses, including retailers and airlines, aim to create similar levels of consistency and brand identity. Great British Railways will use updated versions of the classic 'double arrow' logo as well as the Rail Alphabet typeface, used in this document.

Even after 25 years of privatisation, the logo remains the most widely-used and best-recognised symbol of the railways. It is the standard marker on road signs. It appears on most tickets, online, and at the vast majority of stations. It will stay in those places and increasingly appear on trains, uniforms and publicity material too as and when these are upgraded or replaced as a single, unifying brand for the railways. Keeping it also avoids spending money on yet another new railway logo.
And also:
This publication is the first to use the new typeface, Rail Alphabet 2. This is a continuation and evolution of Margaret Calvert and Jock Kinneir's original Rail Alphabet typeface, which was employed across the rail network from the mid-1960s. Margaret Calvert has collaborated with designer Henrik Kubel to develop Rail Alphabet 2. It retains the overall proportions of the original but the letters are sharper and slightly more compact for maximum legibility. Great British Railways will introduce Rail Alphabet 2 across the rail network, replacing the many different fonts used on railway signage.
So the British Rail corporate identity will return, suitably updated! I wonder how long it will be before the mouthful 'Great British Railways' gets shortened to 'British Rail'?
Incidentally, the 'Great' isn't just patriotic puffery - the railway system is that of the island of Great Britain. Northern Island has a separate system. Really they are trying hard not to say 'British Rail'!
---
In preparing my portfolio, I took screenshots of many of my old website designs. So I've put the smallritual.org ones on here - screenshots of my other sites will no doubt follow. They are in the Grafix menu, or start with smallritual.org 1 and follow the chain of links.
Certain things run through. I have always liked to obscure the menu. The double menu system (main menu takes you to section menu pages) was there from the beginning (because I had too much content in the sections to hang off one menu). The horizontal image scroll, taken from smallfire.org which started earlier.
I haven't retrieved everything. The horrible lime green background of version 5 which I regret foisting on an audience (was my monitor calibrated correctly?). Version 9 was just a set of try-outs for version 10. The muddled period 2016-19 when I couldn't settle on a layout for the responsive site. I had got something I loved with 13-15, but it depended on carefully balanced and placed rectangles and text sizes. This obviously couldn't be taken through into a responsive design, so I had to start again and try to achieve the same effect that I'd lost. This proved harder than expected. I have contradictory intentions - I want minimalism and calm, but then I get depressed by the grey and want bright colours - and then I react back again. I don't intend to change all the time, I just want to find the scheme I want to keep - like 13-15.
I don't suffer these agonies with less personal sites. smallfire.org has had four designs, three of which have aesthetic continuity. alternativeworship.org was essentially unchanged throughout, because it was good first time. I treat sites as having a 'brand DNA' which has to continue. The Grace site colours are taken from Adam's late 90s/early 00s versions which I loved, but you can't inflict saturated page colours on viewers nowadays, so the colours have to be used as accents.
For smallritual.org the blue/grey/'helvetica' (now Unica) has been the brand DNA since 2010 - it's a particular blue though I've varied the darkness. The source is the British Rail corporate identity - eg compare the image below (from the reprinted manual) with this site's main menu:
but see also the 1960s Victoria Line signage and publicity:
Not coincidentally, the same man, Misha Black of Design Research Unit, had a major part in the design of both the Victoria Line and British Rail identities. He liked blue and grey!
1960s Pelican book covers are also close to what I've done here:
but that's more a secondary/post-facto inspiration.
---
During lockdown Grace was invited to work with St John's Church Southall and environmental charity A Rocha UK to build a labyrinth in Wolf Fields community garden in Southall. We did a couple of sessions to clear the ground - former location of a brick factory, very rocky soil - and lay groundsheets. I designed a labyrinth to suit the space.
Today we set out the labyrinth design on the groundsheets, initial setting out lines in chalk, then marking out with paint to survive the weather until the final materials arrive. We used black paint to correct the white paint, painting out unwanted parts of the lines and mistakes.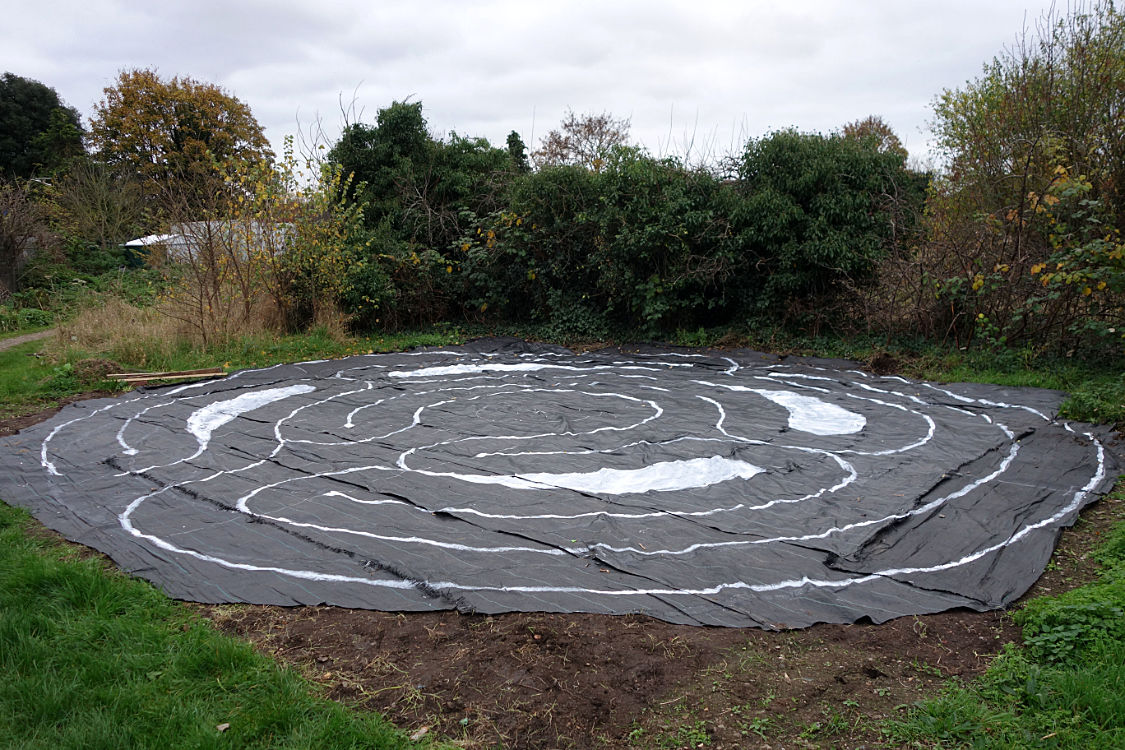 For the final construction we propose to use circular timber stakes hammered in along the lines, the tops left about 50mm above surface to retain wood chip path filling. The filled-in shapes will be cut out for planting.
Marking out labyrinths is always hard work, but today was arduous - bending right over to draw/paint while walking backwards, knees half bent, for several hours. My legs, back and shoulders are stiff and painful. I've not painted one before, it's always been duct tape.
---
Inspiration from Shantell Martin [from an interview on Creative Review that's subscriber-only]. I was hugely inspired by Martin at the Alpha-ville Exchange conference in 2014 and here she is on a depressing morning to cheer me up again.
"I was drawing and drawing and drawing [live on-screen as a nightclub VJ], and I often say that was the real beginning of my career, because it put me in a position where you're drawing live, you don't have time to think, to plan, to hesitate, but more importantly you don't have time to be anyone else but yourself," she explains. "It puts you in the most honest but vulnerable position, but also it allows you to accelerate this process of extracting yourself as an artist."
"People often say, Shantell, how did you find your style? And they say 'find' in a way where they assume you have to go out into the world. But what we forget is that it's in us. There is a core, there is this repetition, and it's inside, not outside."
"I realised I was playing the 'if game'," she tells CR. "If I had money, if I had a gallery, if I had representation, if I had mentors. If I had all of these things then New York would open up to me, but I didn't. So I had to say, well, what do I have? And I had to create my own opportunities by using what I had access to."
Martin is inspiring because her work seems accessible - watching her do it, you feel that you could do it too, or something similar, that what you can do might be good enough. It's not a display of breathtaking technique only available to a genius after years of practice (which isn't to deprecate her own technique and ability).
I could really use a conference like Alpha-ville Exchange right now.
---
I've moved the blog off the homepage to its own page - please adjust your browsers. The main menus have changed to suit.
This enables me to treat the homepage as a site for my 'little drawings', a pictorial blog if you will. They are becoming a practice, and look good gathered together rather than buried in the site sections. They make a better landing place for visitors and potential employers than acres of text and personal musings.
They will still have individual pages for the sake of permalinks (via the image title), as they will drop off the bottom of the home page eventually for the sake of loading time. I haven't quite decided how to handle that, whether I should have a homepage archive as on the Grace website, or whether a new pictorial menu section collecting the drawings as such rather than scattering them in the thematic text menus as now.
And while I was at it I changed the main menu categories ('workplace' has been coming for a while), added some new things, revised the meta tags, changed the colour scheme and streamlined the logo yet again...
---
When a plant has been in a pot for a long time, it becomes pot-bound. Take it out and you find that the roots have become the shape of the pot and grown in on themselves. The plant will struggle to grow and become unhealthy.
The plant needs a larger pot and fresh soil. You need to tease some of the roots outward before replanting so they can engage with the new soil, taking care not to tear the roots or the rootball.
I am pot-bound.
---
I ought to record that smallritual.org is 20 years old about now. I can't quite tell from the file dates when it actually went live - I thought it was early December 2001, but I found a link to it in an email from 25th October 2001 so it must have been live by then. If so 16th October looks like the date.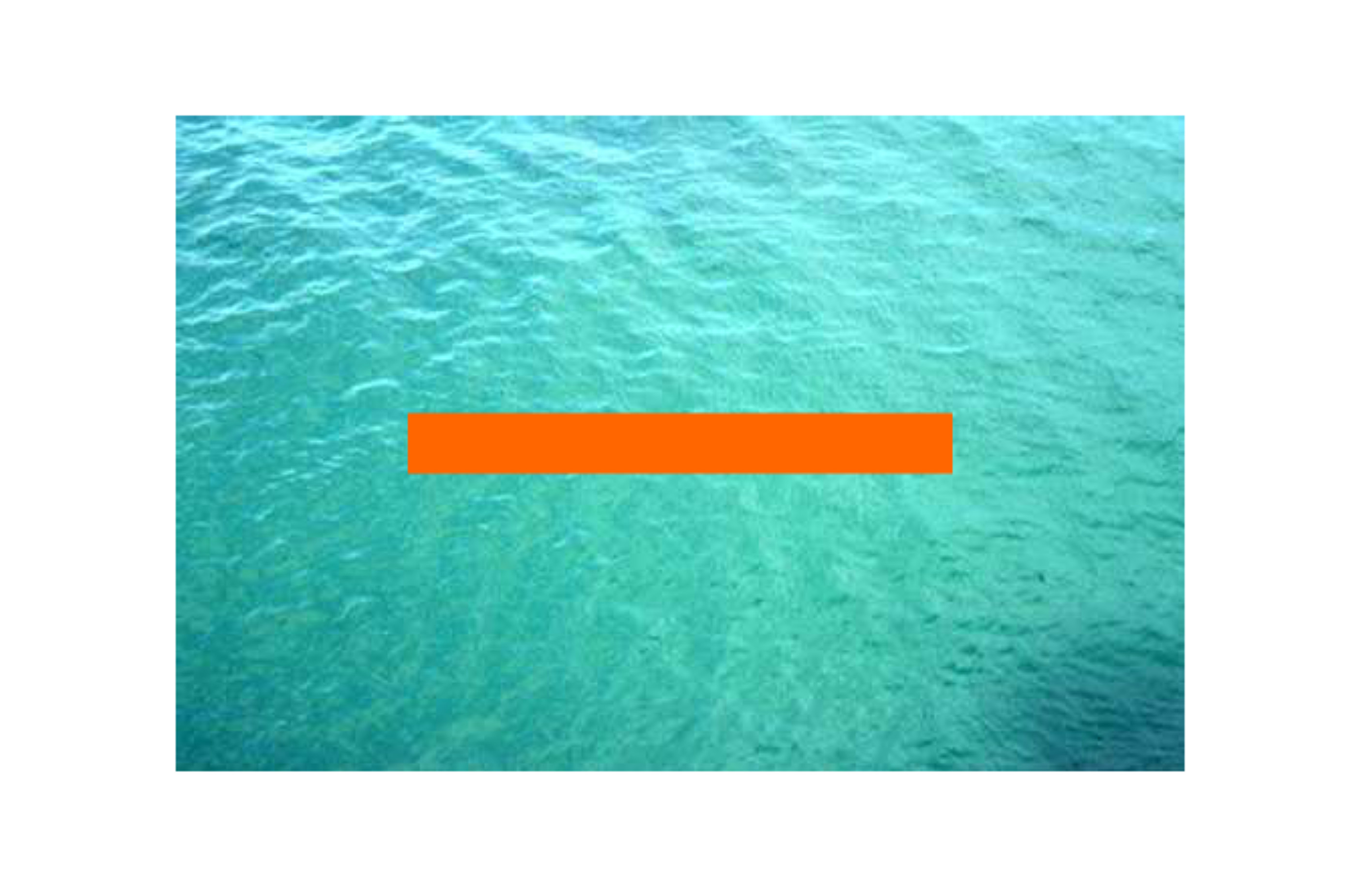 This is how it looked. The first two are the splash page with title rollover in Flash. The others show the menus as black bars in Flash which appear on rollover, hence all the white space to the left. The sections Jellyfish and Bus were named after the section header photos. The pages in each section were accessed from the horizontal bar. As well as Flash it was done in frames, so none of it works in modern browsers.
The jellyfish and bus photos were taken at Perranporth on the morning of 9/11, before it happened in America. When I walked into the beach bar early afternoon hoping for lunch, it was live on the projection TV. People like myself would wander in happy, and their happiness would die as they realised what was going on. I stayed until the towers fell, and then went back to my hotel. It was the first day of my holiday.
---
I just found the original graphics for this one from 2000! It still amuses me so I've brought it back. I'm a little bit puzzled by the original context of this - it predates this website and I seem to remember mounting it and other similar graphics on boards - for what? Greenbelt, if it was dated August?
---
My chief task right now is putting together my portfolio (or whatever it should be called now). Paid and unpaid, professional and amateur, as a single body of work.
I've never actually done this before in the digital age. I began the exercise in 2006 prior to leaving a job, but before I had got very far I was headhunted for the next job without an interview (yes I haven't actually applied for a job for 20 years).
This is an exercise in personal history-making. It's interesting how good one's work looks if you take out all the bad bits in between. The minor projects and the unrealised ones get a chance to shine - maybe they are as good as or better than the other things.
I found my actual print portfolios from the end of the 90s, and realised with some dismay that there is almost nothing that I did before 1999 that I would show to anyone. Some of it I destroyed like any good artist! It was before the internet, thank goodness. So my actual career began half way through my life.
There are a number of reasons - technology, the internet, the people I was working and mixing with, the things I was now asked to do. Tools, tasks, education. There was a step change, a rapid upgrade 1998-2002. What came before can only be seen as juvenilia, getting base-level skills and experience. The best that can be said is that my hand drawings were good - whatever I was actually drawing.
The one early thing I would show is a Gothic door I did in the late 80s, for the perimeter wall of Strangeways prison in Manchester. I stand by it. The drawings are good (by hand, A0 dyeline prints). I need to digitise them but the size is difficult. Sadly I never saw the built door, have no photos and it was removed a few years ago before I got back to Manchester. All I have is a couple of views found on the internet.
It feels as though the first half of my life was spent on another planet, or in another historical era (which is maybe true), and then I was suddenly transported to the current one. The seamless availability of the past (which is actually part of the cultural change) masks the actual discontinuity in lived experience.