Blog archive July 2012
<< March 2012 / August 2012 >>
---
the opening ceremony, on the other hand, was a triumph.
given how good it was it seems churlish to pick at details. maybe there was too much happening at once, parts were too long, watching at home one wondered how things that were legible on tv worked in the stadium and vice versa. but the chimneys! the rings! the beds! dizzee rascal! tim berners-lee! the cauldron! the queen!!!!
we know she has a sense of humour, but it's rarely seen in public because she would rather be boring than risk trivialising the monarchy [there have been plenty of other royals to show why]. i guess after 60 years she decided she could have a little fun with the part.
there has been some comment about the NHS section of the show, was it too left-wing, self-deluding about the virtues of the NHS etc. well, in britain we're all intimately acquainted with the NHS's virtues and failings, but nobody can deny that it's the great sacred cow of british politics, as salient a fact of national life and identity as pop music and brunel.
but that may not be how it ended up in the ceremony, because ideas have a life of their own. consider:
"we need a children's segment - the great thread of british children's literature - bedtime stories - read by parents to children? boring. how will it look? but suppose the children are in hospital beds and the carers are doctors and nurses in their uniforms?" [maybe somebody in the room has had a sick child/has charity connections.] "remember peter pan - the royalties are gifted in perpetuity to great ormond street children's hospital. now we've got the visual hook, a charity hook, a place to go for volunteers - but it can't just be about one [albeit famous] children's hospital. NHS! spelled out with illuminated beds that we can treat like pixels."
that's how a chain of free-associating ideas works.
people here wonder how much the dizzying net of british cultural references was legible to foreign audiences. in part i think that was deliberate. it's saying, we're not the cliches you usually think of, though some of those are in there too. it was also a business pitch, like one of those 'world's favourite airline' ads - we're inventive and creative! do business here!
but in taking a less obvious path through the national story, boyle also wrong-footed all the cynics who would have sneered at patriotic cliches and 'safe' entertainment. instead we were left breathless, wondering at every turn "whatever next??" i like how the 'green and pleasant land' beginning suckers us into thinking we know where this is going, in terms of britishness and Great National Ceremonies. and then, pandemonium.
so that's one monkey off our collective backs. whatever else is won and lost, the big show did us proud. arise sir danny!
---
over the last months or so london has been flooded by olympics-related branding. the unlikeable logo is everywhere. it's disappointing that no tweaks were made to it in the five years since it was unveiled. you would think that they would have got rid of the blow job. much was made of how it would work when animated on screen, but so far it has mostly only appeared as a static single-colour logo on objects or in print. it's not cool enough to sell merchandise in its own right, or to go down [sorry] as one of the classic british logos. the souvenir concorde hangs its head in shame.
my favourite alternative proposal is this one by daniel eatock. it ticks all the london/british/olympic boxes in one elegant design.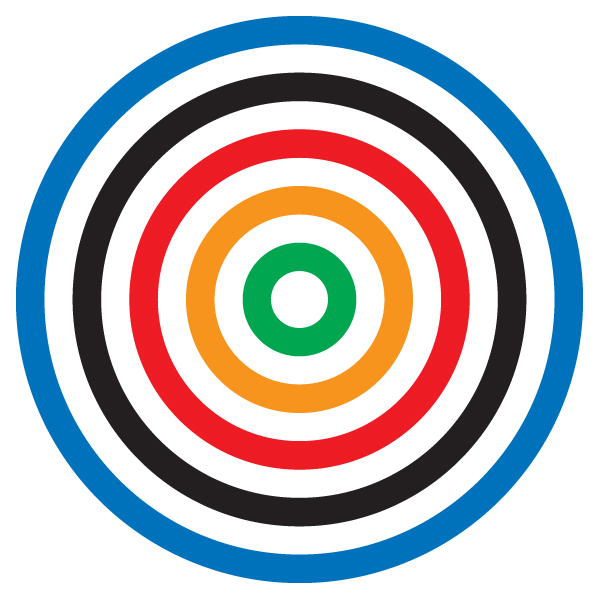 in the wake of wiggins' victory in the tour de france the mod association is perfect [cav's rainbow jersey is there too]. i'm tempted to have a t-shirt made.
pink has been settled on as the standard colour, most notably on signage in the tube. it's different enough from the usual signage colours to stand out, but the combination of new johnston font, underground roundel, british rail logo, olympic logo and pink makes for some startling brand mashups:
the british rail logo and the underground font come up good and make the olympic logo look meretricious [definition: 1. a. Attracting attention in a vulgar manner. b. Plausible but false or insincere; specious. 2. Of or relating to prostitutes or prostitution [see: blow job].]
we have also been subjected to a rather patronising style of public information advertising: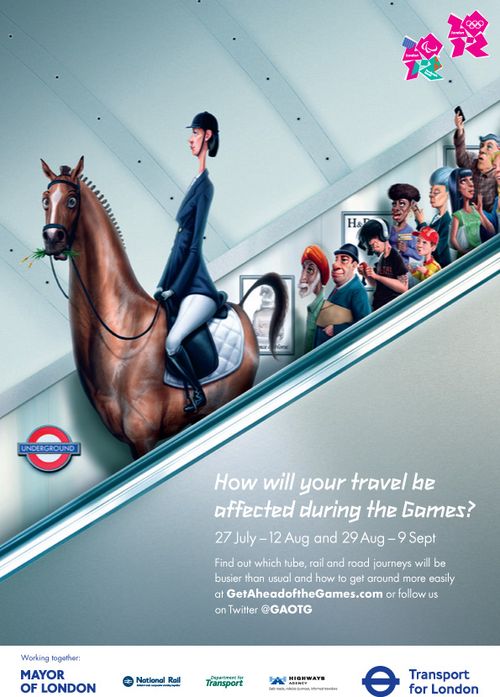 i think london could have handled something cooler and less folksy-jokesy. frank pick would not have approved.
just to add to the confusion, there's the wholly unrelated team gb logo:
which is reminiscent of the new avengers logo [but not enough].
graphically speaking the best olympics remain mexico 68 and munich 72; the former a mix of history and fashion that still looks stunning, the latter a triumph of systematic modernism. neither had to serve the branding needs of corporate sponsors. given the talent and history of london i had hoped for something as good as those two, that could be embraced afterwards as part of the city's identity. if this had been it, we'd all have been wearing the t-shirt by now.
---
for me, the most startling sight of the tour de france 2012 was a yellow jersey leading out a reigning world champion for a stage win - twice. surely unprecedented [for starters they have to be in the same team] and even more so if both are british. it may not happen again in the tdf, even for this pair [though it will happen in the olympics next week]. i kept replaying the highlight clips, fascinated. it's like a conjunction of stars, which has not been seen before and may never recur. if it had been a movie we would all have woken up blind the next day and been attacked by man-eating plants.
---
it wasn't meant to be that way. so what happened?
firstly, i got really busy with work. and i had some blog posts lined up to write, which i never quite found time or energy to do in this period. all my tasks were too big to do on any particular evening. and the longer you leave them, the harder it is to start.
secondly, i've been ill. my cycling injuries from the late 80s reinjured in november, and the constant pressure to be at work and at meetings caused a downward spiral which has been hard to recover from. it hasn't been this bad since the late 90s. i've needed a lot of sleep and rest [so evening computer time got curtailed]. i'm beginning to not need the walking stick, but i have to be careful and not overdo it. i hate the stick, but it gets me a seat on public transport, which is essential because the lurching and heaving are deadly to leg injuries. all this happened just as i'd recovered from two years of thyroid illness. it's been depressing and i haven't felt like writing about it. it took ten years to stabilise the injuries the first time, and i can't face that again, so i've been putting more effort into dealing with them at the expense of other things.
and in fact i've been busy with Grace, and i've read loads of books [hence blog posts too big to write!]. and i've been pursuing a project about the british rail corporate identity which has taken me on ebay a lot and now needs a microsite on smallritual.org. and there are the smallritual postcards, soon a second set. so i've been creative enough.
and i looked at restarting this blog on wordpress, but i can't make it work for me. seems all platforms have their demerits, and i can't transfer the content here without losing half of it and spending a huge amount of time for no real advantage as it turns out. i hate the effective lock-in on principle, but i've made this place work for me, and typepad have recently improved various features under competition from wordpress. still, it was good to pause and reevaluate. now i just need to get posting again.